Limited Time & Availability
10:00
VIEW OUR WEB SPECIAL &
ACCESS OUR SCHEDULE
Secure your spot & get started today with our FREE EXCLUSIVE online offer!
By opting into the web form above you are providing consent for D-Lux Karate University to send you periodic text messages. Standard rates may apply. You can reply HELP at anytime or learn more. You may opt-out anytime by replying STOP.
WELCOME TO D-Lux Karate University
We know that finding a martial arts school can be overwhelming. At D-Lux Karate University, our priority is to help you and/or your children become better versions of yourselves.
Our expert instructors are here to learn your goals, and help you achieve them in a fun, exciting, and welcoming environment. Take a minute to learn more about our facility, programs, and community through our website, and we look forward to seeing you soon!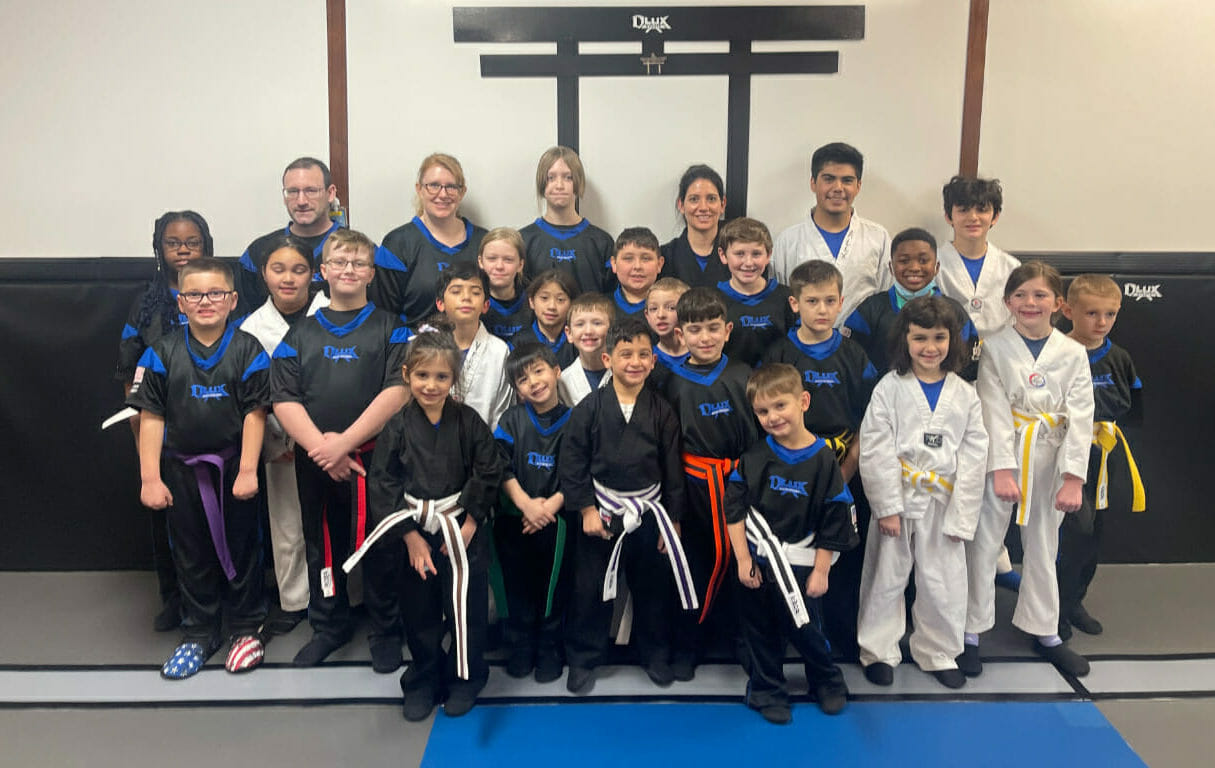 TURN YOUR FAMILY TIME INTO A WORKOUT THAT EVERYONE WILL ENJOY.
FUN AND FITNESS FOR THE WHOLE FAMILY!
It can be difficult to find activities that your entire family will enjoy, especially if your kids aren't close to the same age. Family martial arts classes are designed to be suitable for ages 5 and UP and all abilities.
Tracy Wilson
D Lux Karate has been a huge help.with my sons focus and listening skills. I can also see it building his confidence. They have been great!
Tim Waz
Great Dojo, Great teacher. Master Lux really cares about how your kids progress and develop.
Matthew A. Szmigiel
Adam is a fantastic instructor who has the knowledge, experience and capability to be professional and fun with kids of all ages. My son is 7, and has only been a part of the dojo for a few months, but he really enjoys learning from Mr. Lux and is always excited to go to class. The life lessons that go along with his teaching have helped my son tremendously to grow, and learn how to be a good person. Looking forward to seeing my son progress through this awesome program.
Lisa Spicer
We love D-Lux karate school!! Mister Lux is great with the kids. He makes them laugh and has fun with them but also instills a deep respect of values and self discipline. The other instructors share the same principles as he does and you can see their joy for teaching as well as their passion for karate.
Kristina Szmigiel
I've noticed such a change in my son's behavior since starting DLux karate. Adam is great with kids, highly qualified and always has us laughing. Great place to learn karate.
WHY CHOOSE US
BENEFITS OF D-Lux Karate University
Goals
Your goals are our priority. We tailor our programs to help you or your child achieve those. Whether it's confidence & focus or fitness & weight loss, we're here to help.
Community
Our unique community is what makes your time with us so special. Join a community of positive, fun, and caring individuals all working towards a similar goal.
INSTRUCTION
Our professional instructors are at your finger tips! Making sure that all classes are unique, fun, and safe is our instructors' priority.
Master Adam Lux has been teaching my son Brayden and I for a while now. My son behavior has improved tremendously such as he can stand and listen more now. My son is more helpful around the house as well. I'm glad we are learning Karate from the best. Master Adam makes the class fun for kids and keeps them engaged with comedy. He works closely with all the kids making sure they are learning the techniques correctly and reviews the techniques incorporating them with self defense scenarios. I also enjoy the classes myself and working with other parents to improve our kids. Master Adam has worked hard personally improving the Dojo and making it an amazing place for the kids. There is no other Dojo like this and Master Adam is one of the kind.
Eva Ibrahim
MARTIAL ARTS & LIFE SKILL TIPS
RECENT BLOG POSTS
D-Lux Karate University hosted our Nerf War buddy day party. Students and Parents had a blast with nerf war, water balloons, cleaning the dojo and team work taking out the trash. Thank you for making the event! If you had fun please tell others by leaving a review on google. Help us get to 300 […]
D-Lux Karate University would like to thank the students, parents and friends who came to our 1st Ice Cream Social event. Event was on 9/8/2023. We had lots of fun starting the day off with karate training. After that was done everyone ate as much Ice Cream as they could and then some. Following […]